Z Closed - Lee's Marketplace
Recipes
https://www2.leesmarketplace.com/Recipes/Detail/6141/Vichyssoise_with_Smoked_Salmon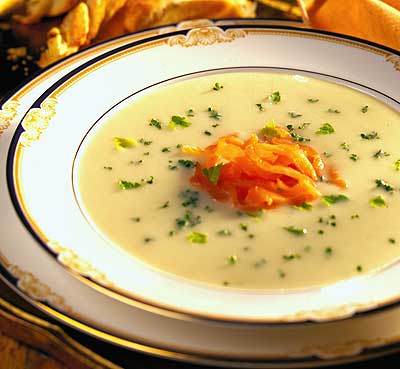 Vichyssoise with Smoked Salmon
Yield: Serves 4
Ingredients
4
ounces

white part of leek

4
ounces

celery stalk

2
ounces

butter (unsalted)

2
ounces

Noilly Prat (dry white vermouth)

1
quart

(32 oz.) chicken stock

4
ounces

Idaho russet potatoes

1/2
teaspoon

salt

4
ounces

Alaska cold smoked salmon

3
ounces

creme fraiche

Garnish with:

Smoked salmon

Celery leaves
Directions:
1. Slice the leek and celery using the brunoise* cutting method.

2. Heat a saucepan on medium heat, add butter and Noilly Prat and saute the vegetables until translucent.

3. Incorporate the chicken stock, bring to a boil; add peeled and diced potatoes. Check seasoning (add salt if necessary) and cook for 30 minutes on medium heat.

4. Meanwhile slice the smoked salmon into a fine julienne.

5. After the cooking time, pour the soup into a blender and add creme fraiche. Blend for 1 minute. Remove the soup into a bowl and refrigerate.

6. To serve: pour the soup into a soup bowl, garnish with smoked salmon and celery leaves.

* brunoise [broo-NWAHZ]: A French word for a culinary knife cut in which the vegetables are first julienned and then turned 90° and diced again to create a small uniform dice. The mixture is then cooked slowly in butter or oil. The mixture is used to flavor soups and sauces or served as a garnish.

Recipe and photo used with permission from the Idaho Potato Commission - www.idahopotato.com
Please note that some ingredients and brands may not be available in every store.
Z Closed - Lee's Marketplace
Recipes
https://www2.leesmarketplace.com/Recipes/Detail/6141/