Z Closed - Lee's Marketplace
Recipes
https://www2.leesmarketplace.com/Recipes/Detail/7494/Rosemary_and_Lemon_Pepper_Pot_Roast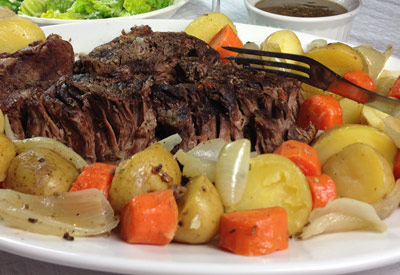 Rosemary and Lemon Pepper Pot Roast
Yield: 8 servings
Ingredients
3 to
3 1/2 pounds

boneless beef shoulder chuck roast

1
Tablespoon

olive oil

1
cup

water

4

carrots, cut into 1/2- inch crosswise slices

1
pound

gourmet russet potatoes, cut in half

4

baby bold onions, peeled and cut into quarters

2
Tablespoons

cornstarch dissolved in 2 Tablespoons water

1/2
teaspoon

dried rosemary, crushed

Salt to taste

Rub:

2
teaspoons

lemon pepper

2
cloves

garlic, minced

1
teaspoon

dried rosemary
Directions:
Combine rub ingredients (lemon pepper, garlic and 1 teaspoon rosemary) and press onto beef pot roast.

Heat oil in stockpot over medium heat; add pot roast and brown on both sides.

Add 1 cup water; bring to a boil. Reduce heat; cover tightly and simmer 2 hours.

Add carrots, potatoes and onion; cover and simmer for 30 to 45 minutes or until beef and vegetables are fork-tender.

Remove pot roast and vegetables and keep warm; skim fat and discard.

Turn heat to medium and stir cornstarch mixture and 1/2 teaspoon crushed rosemary into cooking liquid; cook and stir 3 minutes or until gravy is thickened and bubbly.

Carve roast and arrange on serving platter with vegetables. Serve with gravy.
Recipe adapted from Cattlemen's Beef Board
Photo and styling by Webstop


Please note that some ingredients and brands may not be available in every store.
Z Closed - Lee's Marketplace
Recipes
https://www2.leesmarketplace.com/Recipes/Detail/7494/