Z Closed - Lee's Marketplace
Recipes
https://www2.leesmarketplace.com/Recipes/Detail/9042/Shrimp_Parmesan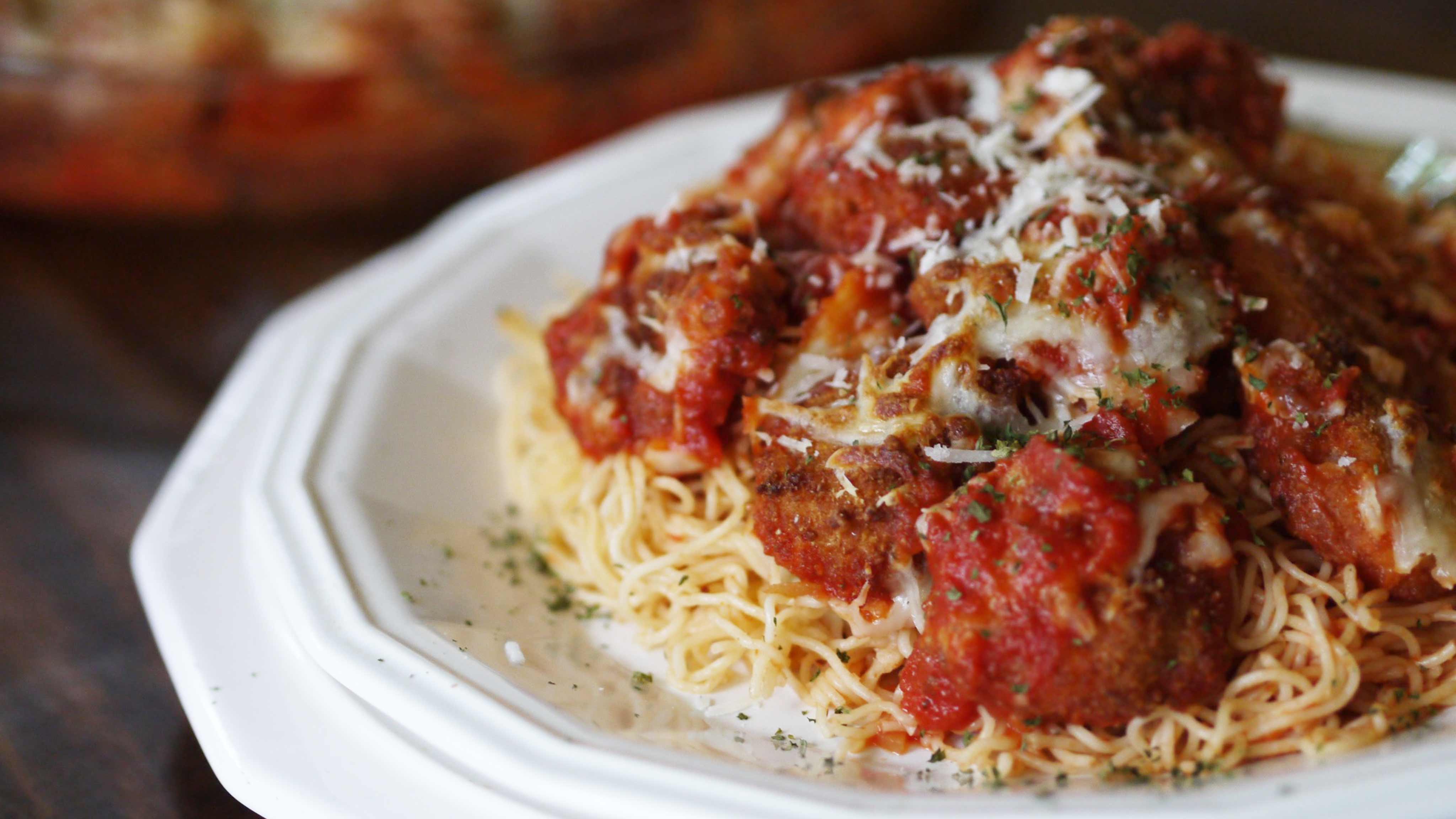 Shrimp Parmesan
Adapted from Emeril Lagasse
Yield: 4 servings
Preparation Time: 30 min; Cook: 1 hour
Ingredients
1/2
cup

all-purpose flour

1
teaspoon

salt

1/8
teaspoon

paprika

1/8
teaspoon

garlic powder

1/4
teaspoon

dried oregano

pinch of freshly ground black pepper

2
large

eggs

1
tablespoon

water

1
cup

bread crumbs

2
tablespoons

finely grated Parmigiana-Reggiano

1 1/4
pounds

jumbo shrimp, peeled and deveined, patted dry

2
cups

vegetable oil, for frying

1
pound

spaghetti, cooked al dente

1
25 ounce jar

marinara sauce

1
cup

mozzarella cheese, grated

parsley, chopped for garnish
Directions:
In a shallow bowl, combine the flour with salt, paprika, garlic powder, dried oregano, and black pepper. In a separate bowl, beat the eggs with the water. In another bowl, combine the bread crumbs with the Parmigiana.

In a medium pot, add vegetable oil and heat the oil to 360 degrees F. Use a thermometer to gauge the temperature. Preheat the oven to broil. Cook pasta according to package directions, al dente.

Meanwhile, one at a time, dredge the shrimp first in the flour, then in the egg wash, and then in the bread crumbs, tossing to coat evening and shaking to remove any excess. Place on a plate until ready to cook.

Add the shrimp in batches to the hot oil, turning occasionally, and cook until golden brown and the shrimp float to the top, about 2 minutes. Remove the shrimp with a slotted spoon and drain on paper towels.

Transfer the shrimp to a baking dish. Spoon 1 3/4 cups of the marinara sauce over the shrimp and sprinkle the mozzarella over the top. Place in the oven and broil until the cheese is melted and bubbly, about 3 minutes.

Meanwhile, toss the prepared spaghetti with the remaining marinara sauce.

To serve, spoon the spaghetti into a large serving bowl and using a spatula, transfer the shrimp to the top. Garnish with chopped parsley and serve immediately.
Photo and food styling by Webstop
Please note that some ingredients and brands may not be available in every store.
Z Closed - Lee's Marketplace
Recipes
https://www2.leesmarketplace.com/Recipes/Detail/9042/